I want to start this post off by saying a hearty THANK YOU MA'AM to Aunt Bossy for keeping me up until 3AM looking for pictures of octopus. I would like to say that this post is inspired by lack of sleep, but sadly I already had the idea before we chatted. Anyhoona- THANKS A BUNCH!!

Movin' on...

The inside of a woman's purse says a lot about who she is. Some women love a bag with all kinds of pockets and separations to keep things anally organized. Others (like me) just have one big space where they shove all kinds of things, only to find them later and think: "I must be legally insane. What is THAT doing in my purse?"

So today I thought I would share the contents of my purse. Here it is.


It looks deceptively normal, doesn't it?

Still nothing crazy. Unless the Bible scares you.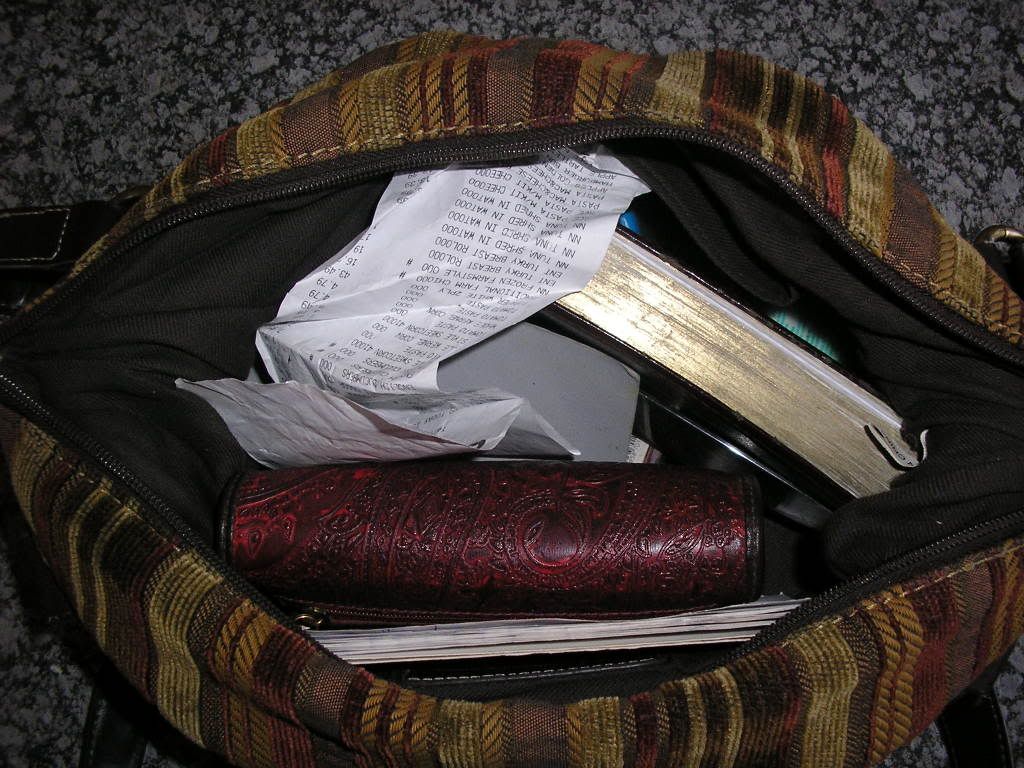 This is the pile of "Normal stuff".

It includes a Bible, wallet, tracts, receipts, a small notebook, a pen, keys, my international driver's license, tissues and some dust.
This is the "freaky Stuff".
This
pile includes, a FURBY, a cartridge for a Leapster, TWO Christmas bows, a butter knife, a rather sizeable
rock
, a child's necklace, and a tape measure.
I really couldn't tell you where all that stuff came from, or why it was put in there, but if you are a Mom with young children, then surely you must have a little freaky-ness in your purse too. Right? Anyone?

And I suppose I could say the tape measure is in there just to prove my measurements to any of you fellow Fitness Friday gals who I might run into while you're traipsing all over South Africa looking for the perfect gift for a rather odd child and I could supply you with the Furby, cartridge, necklace, and rock, then package it all with the Christmas bows, all the while buttering the toast you've been carrying around before sending you on your merry way.

That's a reasonable explanation. I would believe me.

I propose a "Let it All Hang Out" purse-revealing post. All who wish to participate can. Let me know you're going to, and I'll pop over to visit. Maybe you don't have the insanity guts it takes to display your madness to the world like I do, but I have to tell you that I'm glad there were no live bugs or worms in there. Or old food.

Can you guess which pile got put back in???