Edited to add my goals for the week:Hit the gym five days, eat one serving of dinner, no snacking AT ALL, and water water water!! So, I'll let you know how I did on Friday.

Today begins the start of a new tradition here at Castle de JulieMom. Brenda is hosting a Fitness Friday where people who are on a weight loss journey will be sharing their goals and progress. I thought it was too good to pass up, especially since I spend time at her blog every day anyway. It's a good motivator for me to actually have something to post, so I'm in. You can check it out. But first, my progress this week.

I went to the gym four out of five days this week (I skipped Thursday because we are down to one car again and were having company from the States- and it was SO worth it. She was a delight!) I alternated cardio with weight training. I feel good!

Let me give you some background for those of you who don't know. Well, you can read this post and the end of this post, but I'll give you a condensed version. The Prince and I decided to get in shape. So since our health insurance provides a CHEAP gym membership, we took it.

I have since cut out Coke, and snacks, sweets, and eating after dinner time. I eat when I'm hungry and stop when I'm full (or suffer the consequences) and I drink about 50 gallons of water a day. Well, that may be an exaggeration, but it's a lot. I promise. I float all the way to the bathroom.

Anyway, on Monday I again contended with the Red Machine of Death and this time I was VICTORIOUS!! What's the deal?

Body fat: Down 3%
BMI: Down a point
Weight: down 6.6 pounds
Blood pressure: 110/65 (Always has been low)

So I guess the measurements from last (Monday?) are accurate: down a half inch all over (neck, arms, thighs, bust, hips), and one inch on my tummy are accurate. I thought at first maybe I had pulled the tape measure too tight and was cheating, but the machine measurements are actually on!! Yay for me!

I will be heading to the gym this morning after the hubby gets back. I will be sweaty and I will be stinky (can I even tell you how bad I smelled last Wednesday? You don't want to know. And I still went grocery shopping before showering. Wow. That's dedication for you. Right? Buddy?

And, I can't wait until: the results are a little more visible and not just felt by me. :0)

Anyway, just in case anyone from Brenda's pops over here today, I wanted to share a healthy recipe. So today, for all you Fitness Freaks out there I bring you: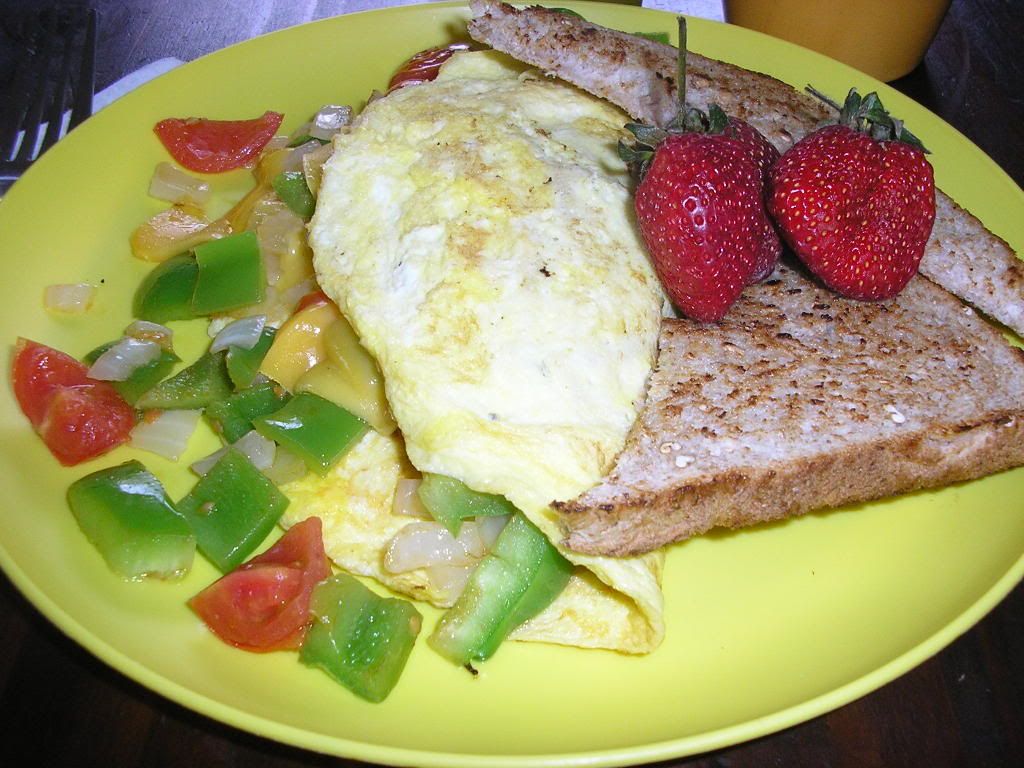 Ingredients:
2 Eggs (large or extra large, your choice)
1t milk (skim or full fat, your choice)
Filling Ingredients: Any vegetables you like and minimal cheese
Salt and Pepper to taste
Instructions:
1. Heat your skillet on med high heat, and add 1/2T olive oil.
2. Throw in your chopped veggies and cook until lightly browned.
3. Remove them to a bowl and keep warm.
4. Crack your eggs in a bowl and beat them with the milk.
5. Spray the same skillet with cooking spray. and pour the eggs into the warm skillet.
6. When the bottom is somewhat set, (after like ten seconds) lift an edge of the eggs and tilt the skillet so that the runny, uncooked part flows under the cooked egg. Do this all around the edge of the skillet.
7. When the bottom is set, CAREFULLY flip over the eggs. And I mean CAREFULLY, or you will tear the omelet and render it useless for filling. Did I mention you need to do it CAREFULLY??
8. On half of the omelet, layer your toppings. Salt and pepper to taste.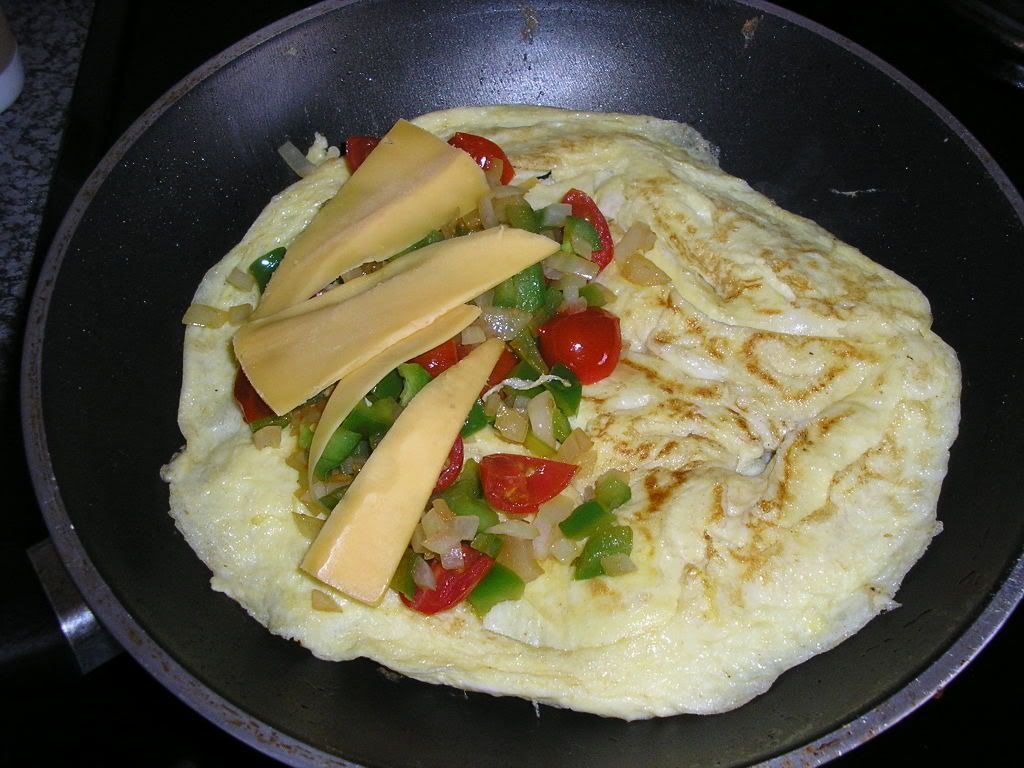 9. Fold the other side over the toppings, and slide onto a plate. Enjoy!!
And for those of you worried about my cholesterol, please click
this link
to see the benefits of eating eggs. The idea that they contribute to high cholesterol is just unfounded. Eat your eggs!
*sings quietly while cleaning the kitchen* If it ain't eggs it ain't breakfast, I love eggs...