Welcome back to another fun-filled Fitness/Foodie Friday! I have made a decision. Every Friday I am going to post a picture of my progress. I am going to start with a picture of my face, but when other things are happening a little lower than that, (which they are but you probably couldn't tell) I will post a body shot. (Doesn't that sound terrible?? A body shot??)


Anyway, here's the first picture for reference: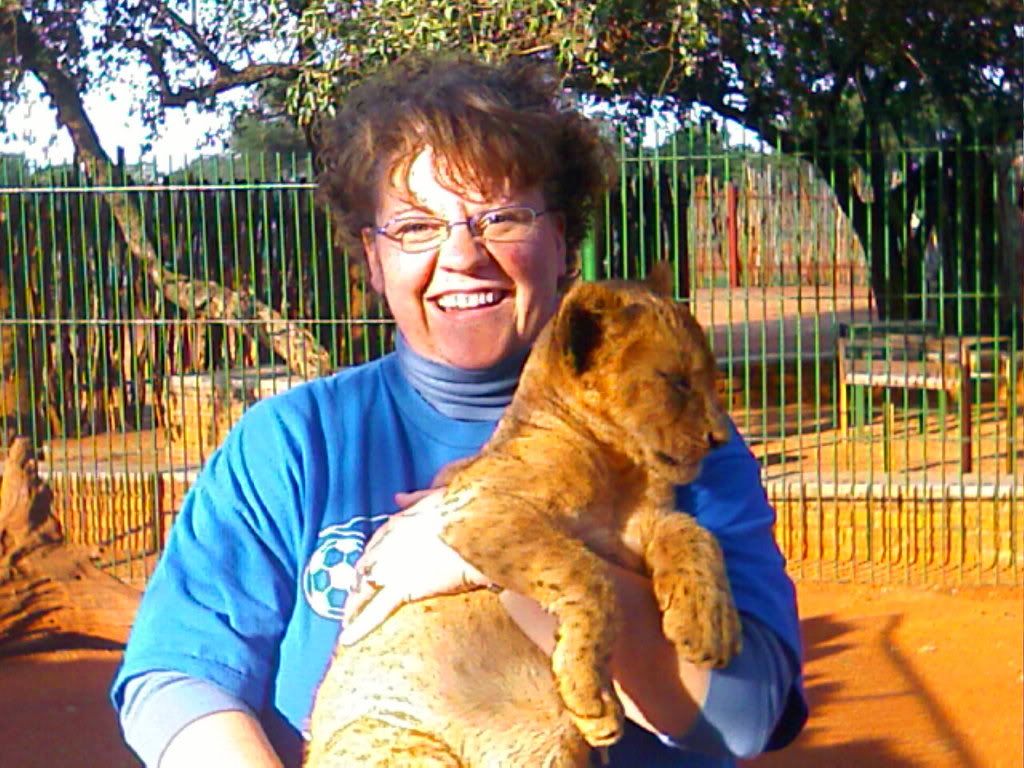 And one I took last week:
And one I took last night:

Please ignore the glasses-less no makeup look.
So there, whew! We're all caught up. Do you see a difference? Please say yes!
I have stayed the same with my weight, but I am gaining muscle, so I'm not concerned. My body fat is down 1%, and my BMI (shouldn't that be TMI? Ha!) stayed the same. (Because of the weight thing? Who knows!)
Anyhoona, the topic for today is: What are you doing differently at meal times?
Well, I have to say that meal times for us now are all about portion control! Although this week when we had spaghetti I had two helpings, but they weren't big. I promise! In the past, I never worried about how much food I ate. I just never gave it a thought. How did this happen?
Because no one told me habits picked up during pregnancy will last the rest of your natural life, that's why. I used my first pregnancy as an excuse to eat anything and everything I wanted. And I only gained (I say ONLY ha!) about 35 pounds. Don't ask how much of it was taken off in the following years. I think I'm losing the first of it right now.
But I have replaced all drinks (except when company comes I have a Coke) with water. At first I thought I would hate it, but I realize how much my body craves it. Especially after a hard work out and I am sweaty and thirsty. And I have noticed my kids are drinking more of it too. We have cut out juice for them except for meal times. With no complaining!
When the Prince requests the fattening breakfast for dinner thing, I can control how much I eat. One small serving of everything or I feel like a stuffed turkey on Thanksgiving. And that is not a nice feeling to fall into bed with, believe you me. I am with Brenda on this one: get a smaller plate!!
Anyhoona, let's get on with the recipe, shall we?
Homemade Whole Wheat Bread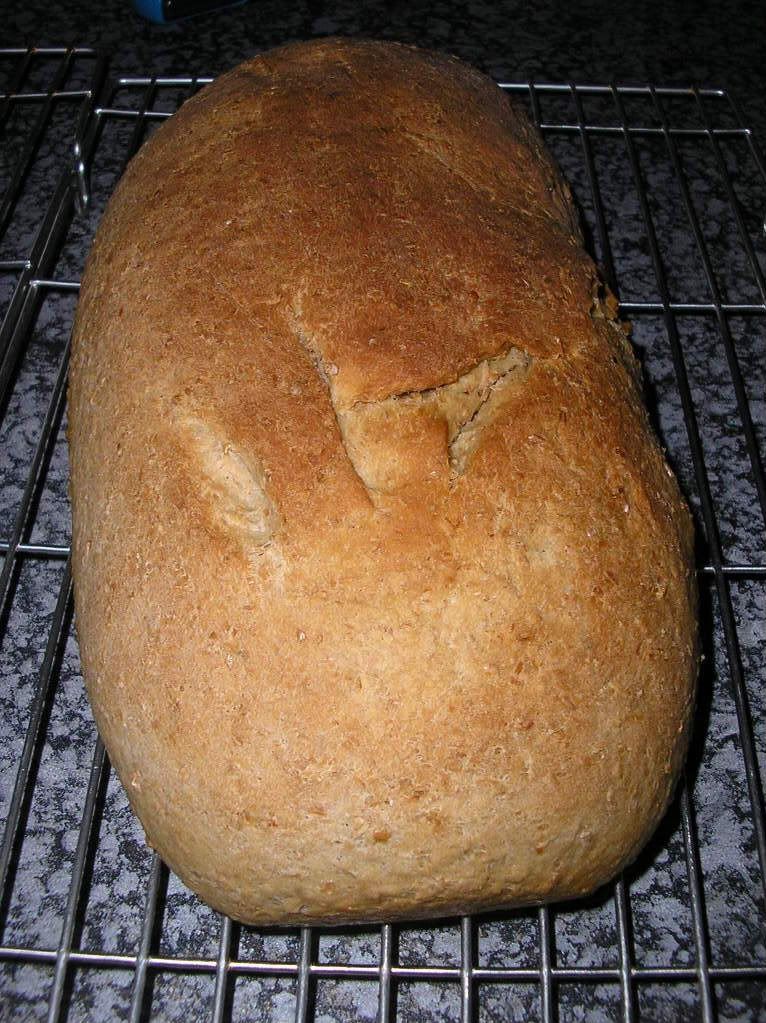 Let me just start by saying I have made some nasty bread in my lifetime. (Remember
WendyMom
? The wheat bread I gave you? Ew! Or
AuntBossy
, the "biscuits", a.k.a hockey pucks? Yikes!) But I promise you I have way improved since then. And this turned out soft and delicious and perfect! I heartily recommend making bread yourself. Not only is it better for you (since you know EXACTLY what you're putting in it) but it's a workout for your biceps and triceps when you have to knead it for six to eight minutes.
Let's get to it:
Ingredients:
3-3 1/2 C all purpose flour
1 package active dry yeast
1 3/4C water
1/3C packed brown sugar (Don't freak out! This is for two loaves!)
3T butter or margarine
1 1/4t salt
2C whole wheat flour
Instructions:
1. In a large bowl combine 2C all purpose flour and yeast; set aside. In a medium saucepan, heat water, brown sugar, butter and salt until the butter
almost
melts. (Don't let it boil or you'll kill the yeast! And that's bad!) Add to flour mixture and beat on low for thirty seconds, then on high for three minutes.
*The batter WILL climb up the beaters and this is ok. Just lift them slightly off the bottom of the bowl so it all goes back down in. But not too high or you'll splash yourself. Not fun.*
Using a wooden spoon, stir is the wheat flour and remaining all purpose flour. (This doesn't work real well, so you'll just basically have to knead it all in. But it's good for you!)
2. TUrn out the dough onto a floured surface. (I use the flour in the bottom of the bowl.) Knead in the leftover flour until a smooth and elastic (NOT STICKY!) dough, 6-8 minutes total. Shape into a ball and place in a lightly greased bowl to rise for 1 1/2 hours.
*If you're using quick rise yeast, check it after 45 minutes. If you can press your fingers in 1/2 inch and the impression stays, it has doubled and you're done.*
3. Punch down the dough, Turn onto a lightly floured surface and divide in half. Cover and let rest ten minutes. Grease two loaf pans.
4. Shape each half into a loaf and place in pans. Cover and let them raise for 35 minutes. (Out of draft or they won't rise at all.)
5. Preheat your oven to 375 degrees F. Bake for 35 minutes. *You may need to cover them with foil for the last ten minutes to prevent over browning* Immediately remove them to wire racks. Serve with a smidge of margarine and enjoy!!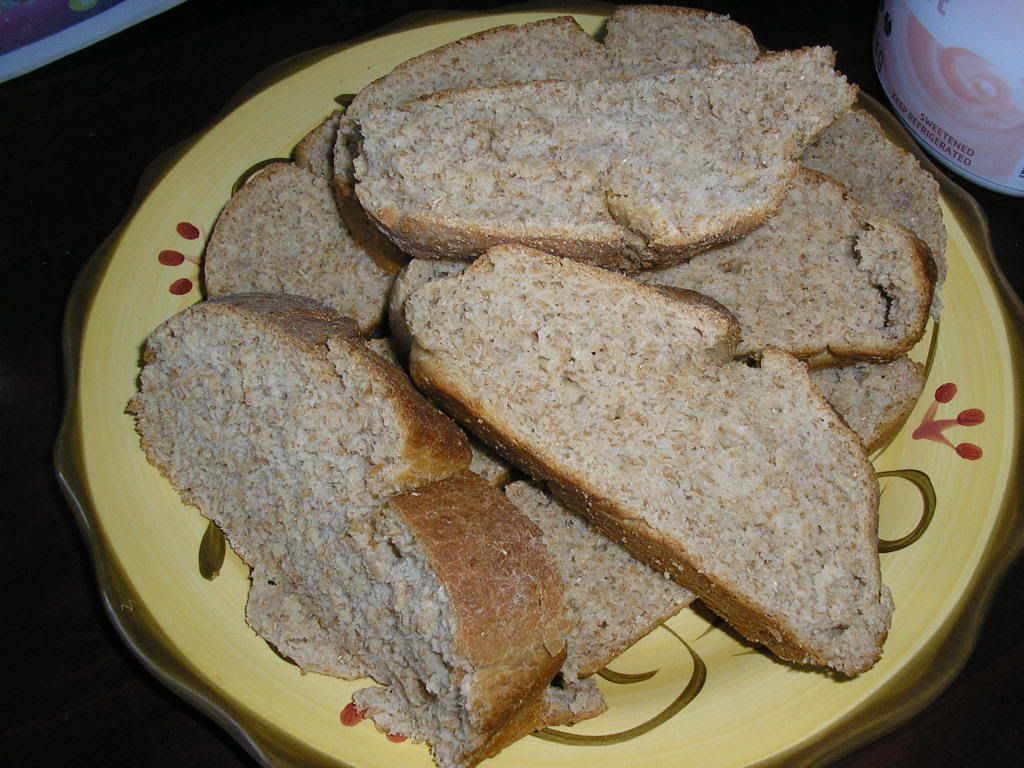 I promise this bread recipe is SO GOOD. And you will feel like Suzi Homemaker for doing it, and your family will thank you. Get on it! Get healthy!
Happy Weekend!