This year we are using Bob Jones University DVD curriculum. What does this mean? It means that the kids get one on one attention from a teacher (all of whom are excellent by the way) and I don't have to actually teach the classes. This is great for us for several reasons.

1. There are huge demands on my time, and I couldn't do a thorough job of schooling the kids if I had to prepare and teach the lessons every day.

2. It's easy to keep the kids on schedule even if we have to go somewhere else. Their stuff (potentially) could be packed up and brought with us if necessary.

3. I have the time to prepare my lessons for the classes I teach on Sunday morning, Wednesday night, and prepare the music for Friday Bible Clubs.

4. I have the time to wander back and forth between the classes (Cinderella is in 2nd grade with Sleeping Beauty.) and see how everyone is doing.

And did I mention I don't have to do the teaching? Last year was difficult for me because things were so new here, and because of everything else going on. So this year it is great! Back when Sleeping Beauty was in kindergarten, we used Abeka DVD. I wasn't crazy about the teacher (No offense Mrs. Baer but you're a little demanding) or the setting. Abeka DVD shows actual kids in a classroom. That's ok, I guess but SB sat there while students answered aloud and did activities.

Anyway, I am not singing the praises of BJU over Abeka, because I think Abeka has them beat hands down with how their materials are organized, etc. BJU has so many separate papers and folders etc, that it's enough to make even the most organized Mom go a little twitchy. "Let me 'splain. No, there is too much. Let me sum up." (In pictures and captions. Fancy!)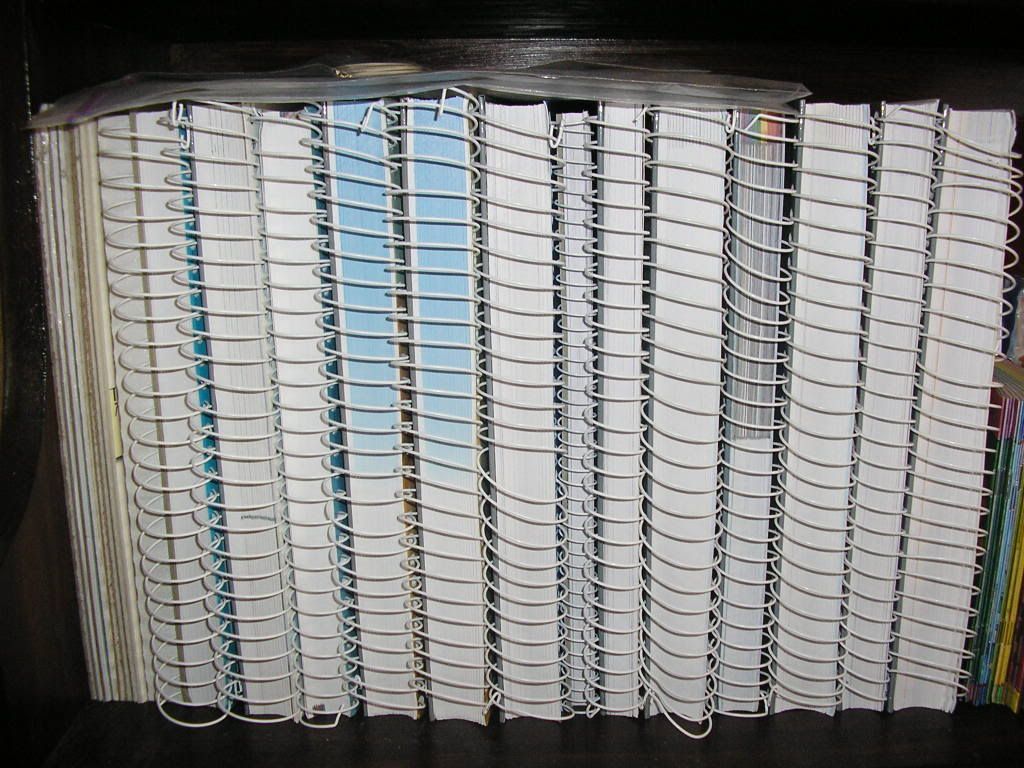 Now, since I'm not doing the actual teaching, I would much prefer NOT to have these books. It would be fine for me to just have papers listing the materials needed for each lesson so I can organize them easily and get ready quick in the morning. I could put those papers in the Notebook of Doom (which you'll see in a minute) for each grade level.
I have the girls' books and DVDs for the class right next to each other so they can take everything they need at one time. Then they put it back in the same place so it's ready for the next day.
K5 Books and Materials

Let's go a little more in depth into the K5 stuff, shall we? And then you will see why I say that there are just WAY too many folders and stuff. First up: the Mom's Minutes Stuff.
This is the notebook I had to prepare (divided alphabetically according to subject) to organize the 'Mom's Minutes' packet that comes with every class. There are supplemental materials in here that the student will need once in a while. I would like it MUCH better if these were already attached to the teacher book, by lesson, ready to pull out on that day. I forget these are here sometimes and dig through every other book and folder before remembering this one. They don't always tell you WHERE to find the items listed in the materials for the day. That annoys me.
Folders I Actually Use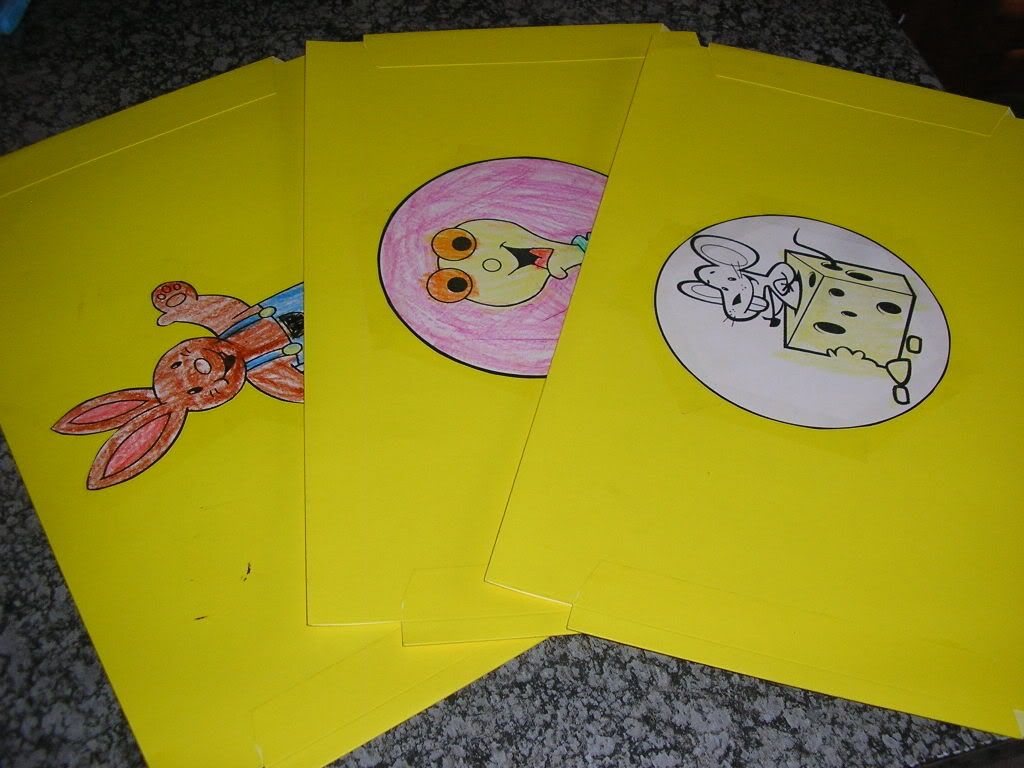 The Other Recommended Ones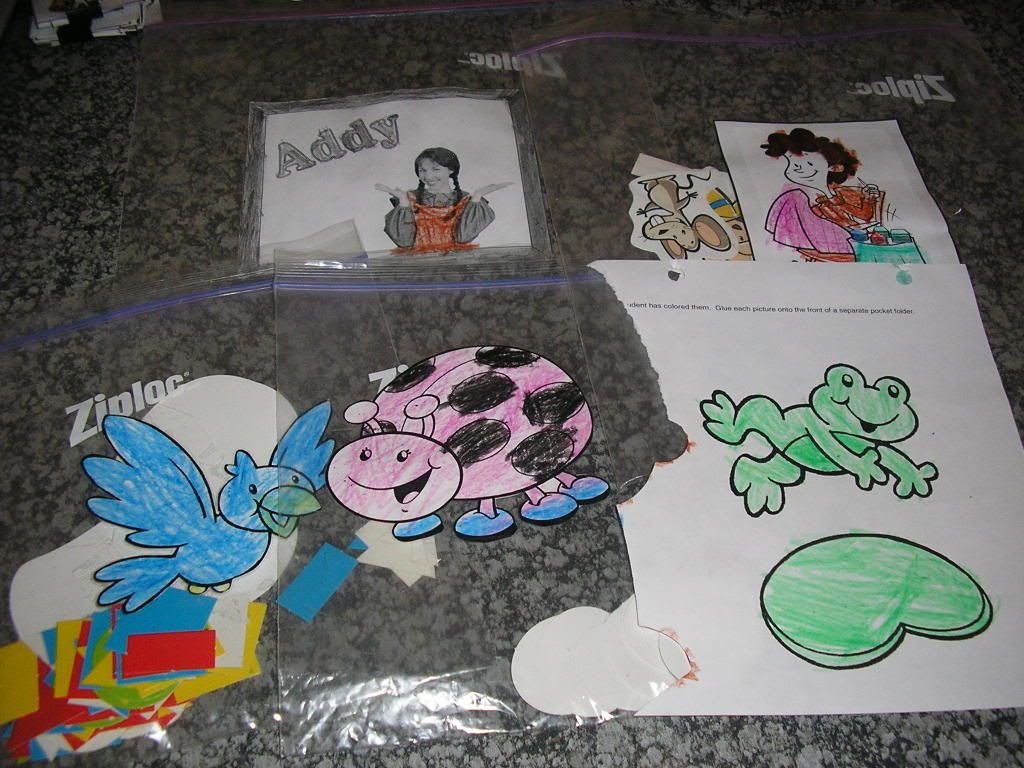 The green frog is supposed to be on a second folder for one of the classes. Now, my K5 student is easily distracted. She does not need four or five plastic bags full of different stuff every day for her class. So, the things that are supposed to go in these bags do not. I use them instead to organize all the manipulatives. Then whatever she needs for math gets put in her math folder, etc. Easier for Mom and not twitch-inducing.
While I'm ranting about things I
don't
like, let's talk about the DVD cases, shall we? They are cardboard, and there are little slats inside that the bottoms of the DVDs slide into, so the DVDs are basically layered one over another. If the cases are dropped on the floor, or tipped, the DVDs fall out. I hate them and think they could provide something a little higher quality seeing as how we shelled out some bucks for the program.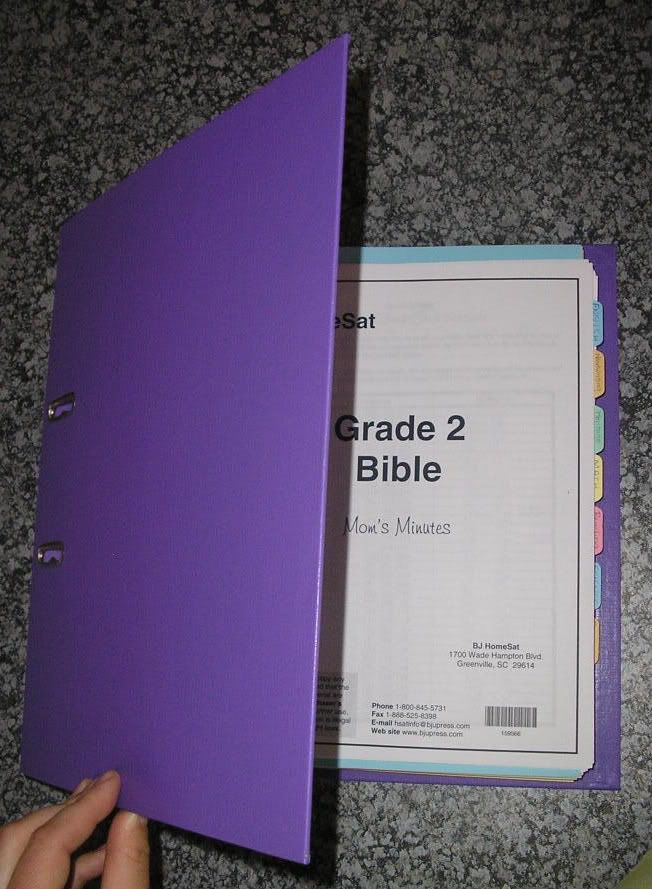 As you can see, there are a TON more classes in second grade, than there are in K5. I have them all alphabetically organized by subject. See the pretty little tabs?
I know
.
I know you can't see what these are labeled, but they say "Number cards", Number Words, and Math Symbols. These are held together with the mini clips and go into the next bag. I have the separated because I learned this morning they don't use all of them together. So rather than have to dig through them and separate them every day, I have already done it. And they WILL stay like this.
Or else!
For Math class they use different little pictures and cut outs pretty much every day. BJU's philosophy of learning is that the more senses you can incorporate into your child's education, the more likely they are to remember what they've learned. And I find the more manipulatives you use, the more learning styles are used as well. It's an excellent philosophy, but it means there are little pieces around. So they go in a bag. But I swear they multiply at night!
So that's our stuff. I'm glad you've seen it. Maybe you're thinking about using BJU's stuff. I HIGHLY recommend it. If you have the time, I would go through everything a week or so before school starts and cut out all their little manipulatives and organize them for the whole year. We didn't have our things before hand, so I am doing it every morning. Which is fine.
The kids are loving it, so we are VERY thankful!! And thanks to our friends who brought all this stuff to us when they passed through on their way to Zambia. You have no idea how huge that is.