It's Friday night, and sometimes you just want some comfort food as you huddle up with the family and have game night, or movie night, or talking night, or make-over night, or whatever your family does together on Friday nights. For us, it's Bible Club at 3, then home and movies or games, depending on our mood.

And since my Dad recently sent me pics of our family reunion in West Virginia, I have been craving their breakfasts. So I thought I would give you my best recipes for having Breakfast for Dinner. Our menu will include: Biscuits and Sausage Gravy, Fried Eggs (over easy as some of you may say), pancakes, and Fried Potatoes. Is that enough? No? Well, you can go here for a cinnamon roll recipe to round it all out I suppose. But don't blame me if you can't sleep because you've devoured too much food and have indigestion!

And I know you're thinking this looks like WAY too much work, but when you make it as often as I do, it's really pretty easy. (Make the cinnamon rolls in the morning.) You can see that there aren't many steps. And if you have little helpers who can measure and mix, it gets done that much faster.


First up:
JulieMom's Biscuits and Sausage Gravy
For the
Biscuits
:
4C self-rising flour (OR add 1 1/2t baking powder and 1/2t salt per cup of all purpose flour)
1T sugar
1T baking powder (Yes in addition to what you put in to make it self-rising)
2C buttermilk (OR put 1T lemon juice in a 1C measure, then fill with milk and sit 5 min.[x2])
2/3C shortening (OR margarine. I've even used the soft kind in a tub.)
Instructions
:
1. Mix all the dry ingredients together.
2. Cut in the butter or shortening until it resembles coarse crumbs.
3. Stir in your buttermilk until it forms a sticky dough.
4. Knead in (gently!) more flour until the dough is no longer sticky.
5. Lightly flour your counter or work space and roll the dough to 1" thick. Cut with a biscuit cutter. (OR use a large mouth plastic drinking cup)
6. Place each on a greased sheet and bake for 15 minutes at 400 degrees (F).
Ingredients:
1lb breakfast sausage (Here we use beef, but pork is fine if you like it.)
1/4C all-purpose flour
Milk
Salt and pepper, if needed
Instructions:
1. In a LARGE skillet crumble the sausage and cook until no longer pink. Do not drain.
2. Sprinkle the flour over it and cook a few minutes, until light brown.
3. Pour in 2C of milk, and stir until the flour loosens and makes a thick gravy. If it's too thick (which it will be) add more milk. Your skillet should be quite full, but you don't want a 'dry' gravy. Keep adding milk and stirring until it's the consistency you want.
4. Serve hot over warm biscuits. (And eggs and potatoes) Then die and go to Heaven.
Next Up:
Fried Eggs
2 Eggs (Or however many you want. Surely not more than two per person!)
Cooking spray
Instructions:
1. In a non-stick skillet, spray a generous amount of cooking spray.
2. Carefully crack your eggs into your skillet.
3. With a spatula, gently make 'chopping' marks in the thick part of the white. (You can see in the picture where the 'thick' part is.)
4. When the white looks set on top, run your spatula between the two eggs to separate them. Then slide your spatula under the yolk part and flip.
5. Cook for another minute to make sure the white is set.
6. Remove to a plate, salt and pepper if you like.
Last but not Least:
Fried Potatoes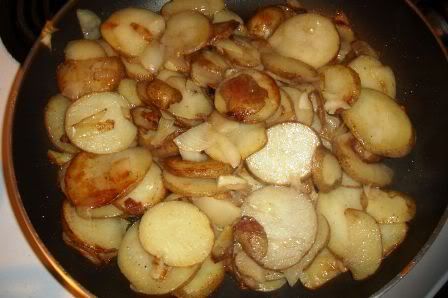 Ingredients:
4 large Yukon or white potatoes
2T cooking oil
Salt and Pepper
Instructions:
1. Heat oil in a large skillet.
2. Cut potatoes into slices. (Thinner cooks quicker)
3. Layer potatoes in the skillet and cook until the bottom layer turns light brown. Flip the potatoes over and continue cooking until they are all light brown and cooked through.
4. Salt and pepper if you like, and serve (for the kids of course) with ketchup. I like mine with gravy on them.
You can click on the links above for the pancake and cinnamon roll recipes. I hope you'll try at least some of the things mentioned here. It's not a 'skinny' menu by any means, but once a month (or once every couple months) isn't so bad. Only have one biscuit, one small serving of gravy, a little potatoes, and nothing else. (You can try the other stuff the next morning!) And make sure you eat smart early in the day and the next day. And take a LONG walk when you're through.
Washing up all the pots and plates, etc by hand instead of using the dishwasher will help you work some of those calories off too. So I don't want to hear ANY comments about the amount of calories in this menu. Capice? [That's mob talk for Got it?]
By the way, I took measurements before I started working out, and again last night. While I haven't checked my weight since, I
HAVE
lost a 1/2 inch all over (arms, thighs, neck, hips) and 1 inch on my tummy. And I ate this for dinner last Sunday night. So there.
Happy weekend!