Are you tired of those pesky child leash laws? See signs like the one below popping up in your favorite neighborhood places? Well, fear no more! Here at KidStop™ we only want to help!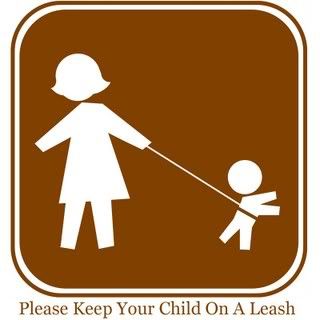 Here's an

economical

and

safe

way to make sure YOU don't violate the law. Why should you pay for your child's curiosity? Long gone are the days when children have the rule over parents. Not only will this keep you in concordance with the law, it will teach your child their place. Parenting at its easiest!
See how happy they are?
Everyone
loves the leash!
And for those of you with kids who just want to touch everything, we now offer the 'Hands-Off Jacket®'. Place the jacket on the child, secure straps behind their back, attach the KidStop™ leash, and you're set! We'll even embroider their name on the front. Makes a great gift for new moms!
Have an important event to attend such as a wedding, graduation, or funeral? Well worry no more about whiny kids ruining your chance to network. With our patented 'Stay Put Stakes®, you can enjoy the party without giving Junior another thought. Just attach the 'KidStop'™ leash, insert the 'Stay Put Stake'® through the loop at the end, and hammer

securely

into the ground. Make sure your child cannot remove the stake from the ground before leaving them unattended.
Be sure to specify your color choice when you order!
And for that last added step of protection, should your child breach any of the above security measures, if you order NOW we'll throw in a brand new Child Guard! Attach the cute animal alarm to your child around his/her neck. You keep the other part discreetly in your pocket or purse. Should your child wander outside the set parameters, a low voltage shock will be distributed. When five shocks have been administered, a quiet alarm will sound, alerting you to go and collect your child from the ground. Be sure to bring them a change of clothes.
Is this set everything you've ever dreamed of? Have you thought about having children, but were afraid they were too much hassle? Put your fears to rest. With our award-winning line of KidStop™ products, you can parent from a distance with confidence.
Don't be fooled by cheap imposters that offer no security!
Operators are standing by!