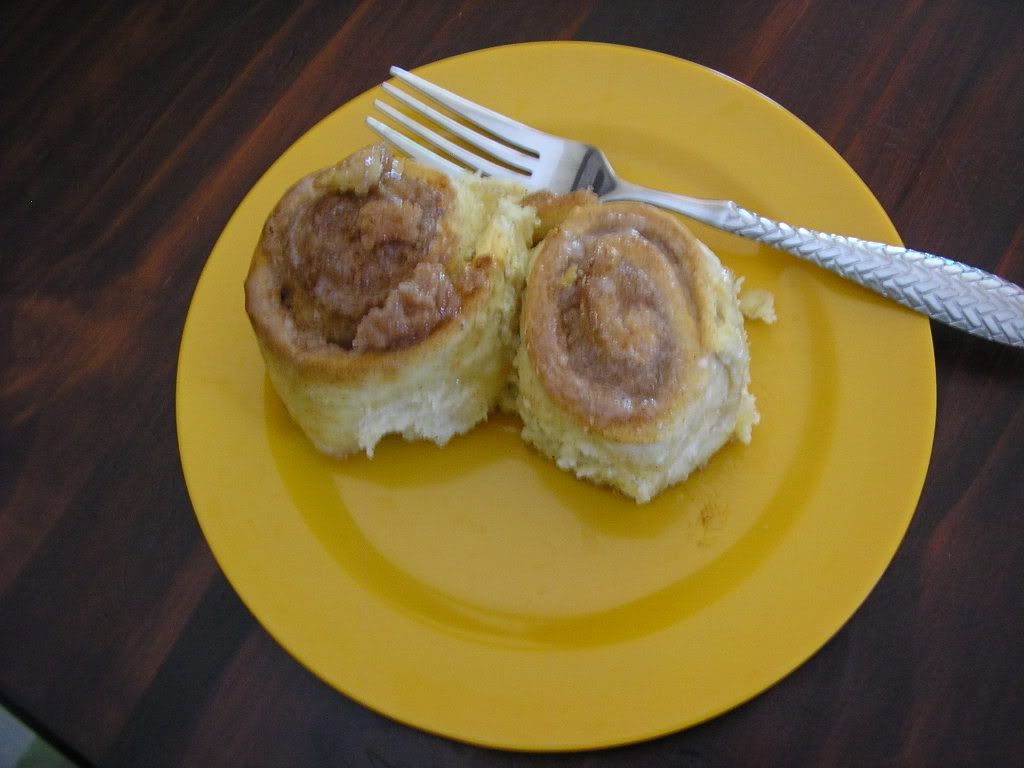 These cinnamon rolls are so nice because they take literally MINUTES to put together. If you love the taste of traditional cinnamon rolls, but hate the waiting for the dough to rise, etc (like me) then these are for you!!

Ingredients:
2C all purpose flour, sifted
1T baking powder
1t salt
1/4 t baking soda
1/4C vegetable oil
3/4C buttermilk
8T butter (1 stick) softened
3/4C sugar
1t cinnamon
1C milk (optional)

Directions:
1. Combine flour, baking powder, salt and soda ina medium bowl. Mix well. Stir in vegetable oil. Add buttermilk and stir until just blended.

2. Knead dough on a lghtly floured surface until smooth. Roll into a 15x8 rectangle. (Or close enough to that. Mine are NEVER prefect rectangles.)

3. Preheat oven to 400 degrees F. Grease a 9" baking pan lightly.

4. Spread butter over the dough. Combine the sugar and cinnamon in a small bowl and mix well. Sprinkle over butter. (And I always lightly pat it into the dough a bit so it doesn't all fall out when I cut them!) Roll up starting with long side. Pinch seam to seal.

5. Cut the roll into 1 1/2" pieces. Arrange in the prepared pan until lightly browned. (15-20 minutes) Remove from over and pour milk over (if desired). Or pour over glaze.


Glaze:
1C Powdered sugar
Liquid (milk, water)
1t vanilla extract

Place powdered sugar in a bowl. Add the vanilla. Add liquid a little at a time until you reach the desired consistency. (Which should be runny but not watery.) Pour over hot rolls.

SO YUMMY!!
We actually have visitors from the States coming today, and I will probably make these as part of our breakfast for tomorrow. So, if you happen to see the people who visited when they get home, ask them how great these were. 'Cause I can guarantee these WILL be great!

Have a happy weekend everyone!