Today I bring you some of my favorite foods: CARBS!

This bread is so easy to make, and you can adjust the seasoning to fit your preferences. The sauce is an easy sauce made in the crock pot, so you can fix it up in the morning and forget it.

Let's start with the bread, shall we?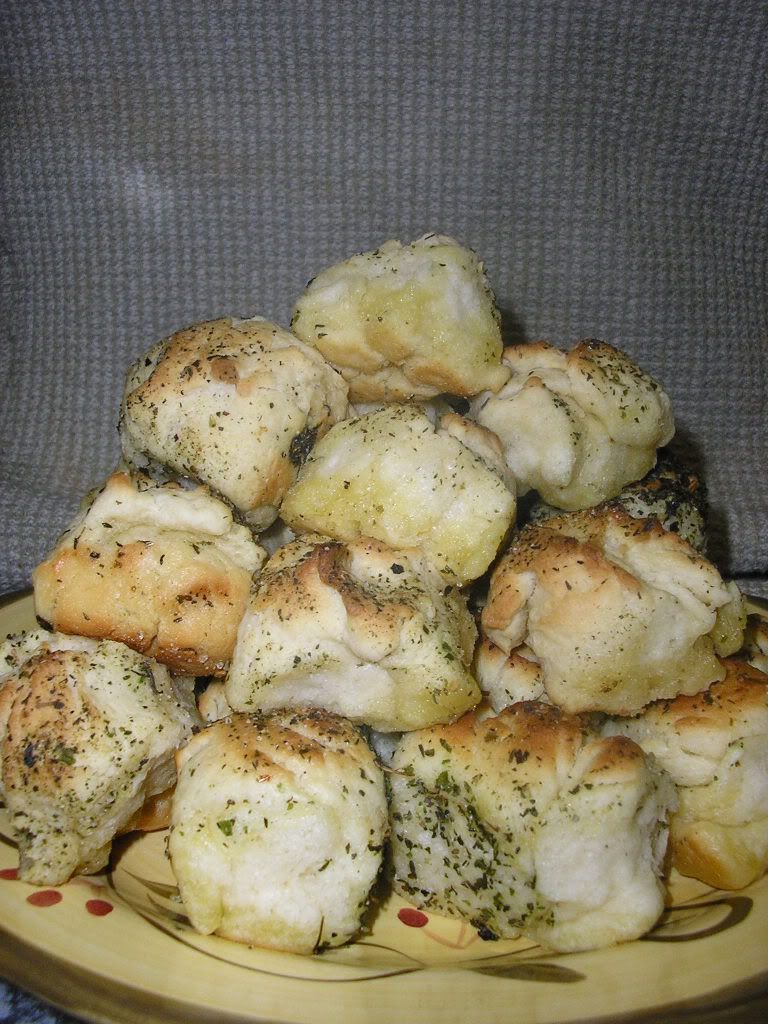 Ingredients:
| | |
| --- | --- |
| 2-2 1/2 cups flour | 1/2 cup milk |
| 1/2 tsp. salt | 1/4 cup water |
| 2 Tbsp. sugar | 2 Tbsp. margarine |
| 1 pkg. or 1 Tbsp. yeast | 2 Tbsp. herb mix (your faves) |
Directions:

1. Mix 3/4 cup flour with sugar, yeast, and salt.

2. Heat milk, water and margarine until very warm (120°-130°). Add to dry ingredients and beat 2 minutes on medium speed.

3. Add 1/4 cup flour. Beat 2 minutes on high. Stir in enough flour to make a stiff dough.

4. Knead 2-3 minutes. Place in greased bowl and let rise 15 minutes.

5. Divide dough into small balls. Dip in melted butter, and Place in a bundt pan, sprinkling with herb mix every layer. Let rise 15 minutes. Bake at 375° for 20-25 minutes.
JulieMom's Crock Pot Spaghetti Sauce
In all fairness I feel I should be honest and say this started out as sloppy joes. BUT we were REALLY late getting home from church (like two hours past the time I expected) and the meat was a little, um,
grainy
. So we ditched the sloppy joe idea and I just made it into spaghetti sauce instead. Which worked out, and I was glad because it would've been a HUGE waste!
Ingredients:
2 lb. ground beef
1 onion, chopped
1 green pepper, chopped
several shakes of worcestershire sauce
2 cans tomato puree (sauce)
2 tiny cans tomato paste
1 beef bouillon cube
1/2C water
2 t oregano
2 t basil
2 t garlic powder
2 t mediterranean vegetable seasoning
salt and pepper
Dump (well, gingerly place) all ingredients into crock pot and stir to mix. (Doesn't have to be well) Cook on low for five hours. If too thick, add a little water, and stir to warm through. Serve over your favorite pasta. SO. GOOD.
And I will think about posting the recipe for Ho Ho Cake next week. Tomorrow is Snow White's birthday, and I am in the midst of baking her cake and making (for the first time ever) royal icing decorations. They're supposed to harden in about an hour, and then I can out them on the cake. Yeah, we'll see.
But I will most definitely be posting pictures, no matter what the outcome. I promise. :0)