Before I get into the food today, I just wanted to update those of you praying for our missionary friend Michael Radebaugh who was wrongly imprisoned in December last year. Though his trial was postponed AGAIN until September third, he was RELEASED ON BAIL THURSDAY!! Praise the Lord!

This moment has been a long-time coming and it's extra sweet because his parents are here to celebrate in person. We're just praying September third he is set free because his brother's wedding is September sixth and he is to be the best man. I know God can work miracles, so I ask you to join our efforts in inundating the throne on his behalf. Thanks!

Now, on to the food.


Today I bring you: Zucchini Bread!!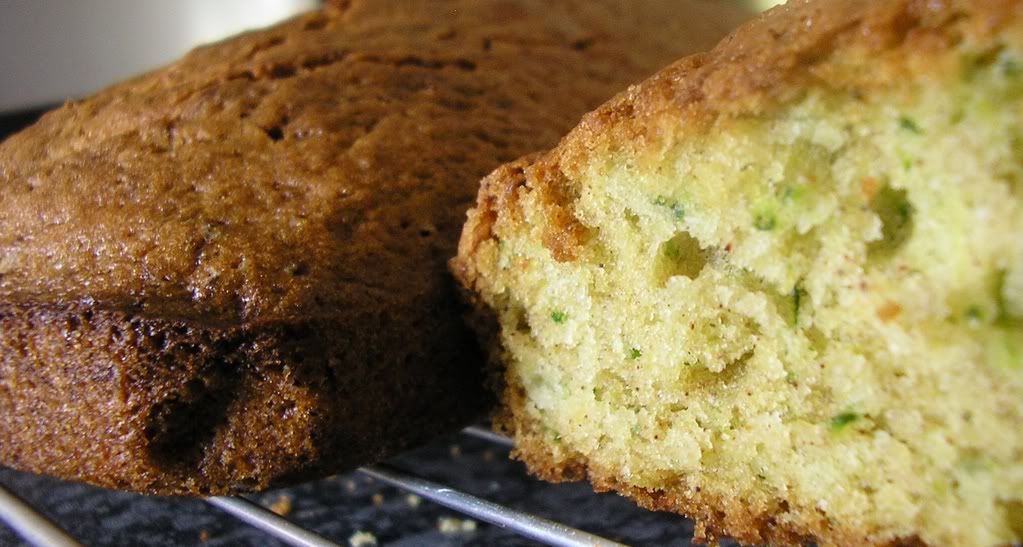 Ingredients:
3 Eggs
2 Cups sugar
1 Cup vegetable oil
2 Cups shredded (unpeeled) zucchini
3 Cups flour
1 tsp salt
1 tsp baking soda
1 tsp cinnamon
1/4 tsp baking powder
1 Tbl vanilla
1. Mix together all ingredients until just moistened. Pour into two greased loaf pans. Bake for one hour or until a toothpick inserted in the middle comes out clean.
2. Remove from pans and carefully cut a thick slice. Slather with butter and devour.
TA DA!! This is also good if you substitute bananas for the zucchini. Oh yeah, yum!!

And Surprisingly Easy Dinner Rolls!!

Let's pretend I took this picture, okay? Thanks.
1 Package instant dry yeast
1/4 Cup warm water (not hot- you'll kill the yeast)
3/4 Cup hot milk (but not boiling)
3 Tbl margarine (or shortening if you like that gross stuff)
3 Tbl sugar
1 1/4 t salt
1 beaten egg
4 Cups flour (or until stiff dough forms)
Melted butter
1. Dissolve yeast in warm water. In a large bowl, mix milk, margarine, sugar and salt. Cool to lukewarm.
2. Stir in yeast and egg. Add 2 Cups flour and beat until smooth. *I used my dough hook to mix*
Gradually add flour until the dough pulls away from the sides of the bowl.
3. Turn out and knead 8 minutes.
(It's surprisingly easy because the dough is SOFT. I actually only kneaded mine for four minutes before it got sticky and I stopped. The rolls were still awesome. I think the dough hook kneaded it while mixing.)
4. Place in a greased bowl and turn once to grease the all sides.
5. Cover and raise in a warm place one hour.
6. Press out the air. Grease your hands and divide into balls. (Depending how large you want them.)
7. Place in shallow greased pans (such as a square pan or cake pan) with sides touching.
8. Cover and raise 45 minutes.
9. Bake at 400 degrees F for 15 minutes.
10. Remove from oven and brush with butter.

OH. MY. WORD. They are super delicious. Better make them big so you won't be tempted to eat so many. Small ones you just pop in your mouth over and over and over...dangerous!

I know it's summer in the States, but it never hurts to have fresh-baked bread- especially when it's this easy to throw together. It takes time to let the rolls rise and stuff, but it's so worth the effort. Besides, while you're waiting you can catch up on blog reading, or sewing or any other project you've put off for a while.

Get your food on.