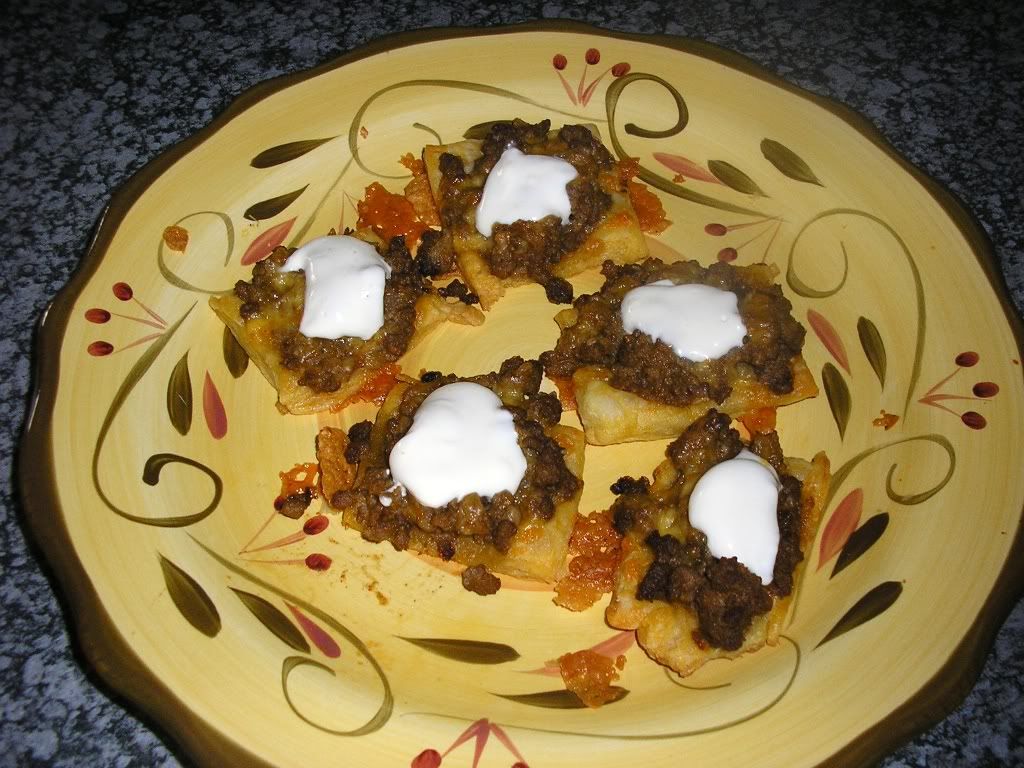 Today I thought I would share a recipe from my Mom. I've had this recipe for quite a while, and forgot about it. Since I had never tried it, I felt a Foodie Challenge laid out before me. So, let's get to it!

Taco Puffs
2 lbs. ground beef
1 large onion, chopped
1 taco seasoning packet
2 sheets puff pastry
1 Cup cheddar cheese
sour cream
salsa
guacamole

This recipe is SO easy. The only thing you actually cook is the beef. Let's proceed.

1. Remove your puff pastry from the freezer three hours before needing it.
1. Preheat your oven to 425 degrees F. (Move puff pastry to the surface of your stove to 'encourage' it to thaw.)
2. Cook ground beef and onion until beef is brown, and onion is translucent. Add seasoning packet, and cook according to directions.
3. After thawing, unwrap and lay flat the sheets of puff pastry. (I leave them on the plastic insert they were wrapped in.)
4. Cut pastry into fourths horizontally, then in half vertically.
5. Lay your squares of pastry onto a baking sheet.
6. Top them with a large tablespoon of meat mixture, then a sprinkling of cheese.
7. Bake for fifteen minutes, or until pastry is lightly browned.
8. Remove from oven, transfer to a serving platter (or plates) and top with your choice of sour cream, salsa, and guacamole.

I don't know what it is, but I think puff pastry makes everything taste so yummy. My hubby and kids LOVED this one. And since I didn't have enough puff pastry, (I only had one sheet) I made and ate cooked cabbage casserole. Which will have to be for another time.

This is also good for parties if you cut the pastry into bite size pieces.

Enjoy!!