I thought I would start today by showing you the delicious meal I prepared for the Prince and I (and the girls) in honor of our anniversary yesterday. Since our babysitter wasn't available, we will be going out tonight instead. Here it is: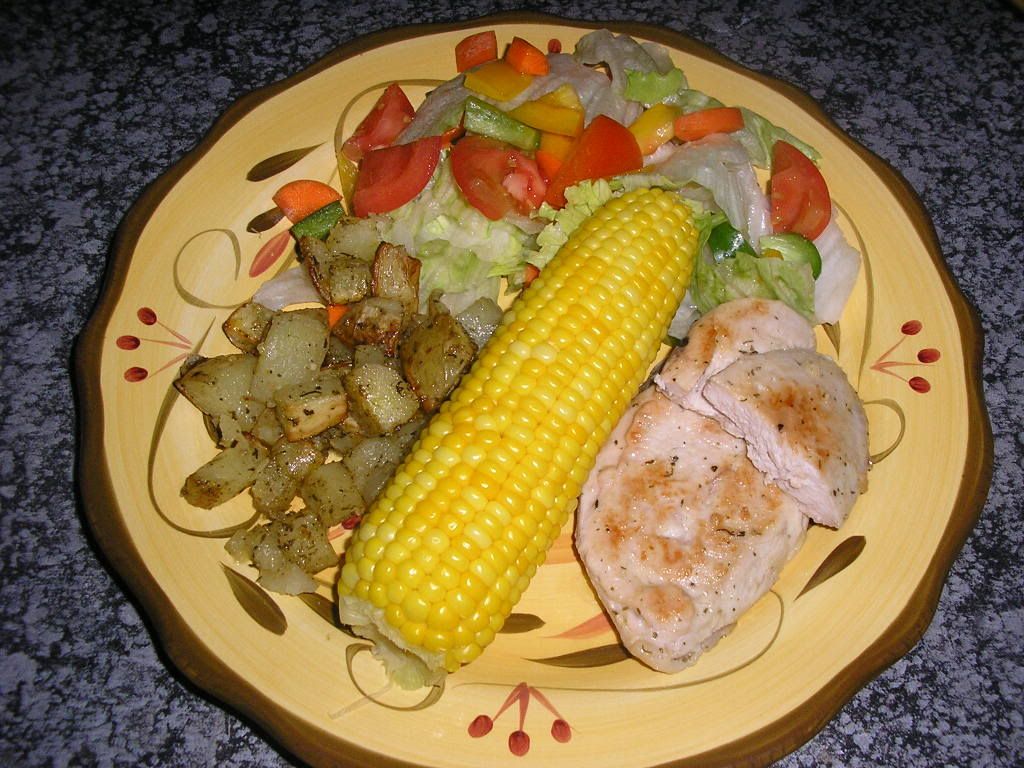 In case you can't tell what's what, there are garlic herb roasted potatoes, greek chicken, corn on the cob, and salad with feta cheese. Yum!!

But last night's dessert is today's recipe: Crepes!!

Yummy Crepes

1C Flour
1 1/2C Milk
2 Eggs
1t salt
2T vegetable oil

Some people are intimidated by crepes. They say things like: "I could never make crepes. They look hard." Or "Crepes are best made by snobby French people with skinny mustaches and weird hats, and since I am an American-type person with no facial hair and a regular-type hat, I cannot even think of trying them."

You couldn't be more wrong. All you need is a small skillet (even not non-stick will work, you just need spray), a good spatula for flipping, and joie de vivre. Don't let the French have all the fun with crepes! I made them just fine and I recently had my mustache waxed clean off. And I don't own a weird hat either. Anymore..

Anyhoona, if a rat can make Ratatouille, you and I can make crepes. Oui? Oui! C'est magnifique! Commence...

(Un) 1. Heat a small (6 or 8 inch) non-stick skillet over medium heat. (or your not non-stick skillet if that's what you're using.)
*My stove I use number four. Six is for boiling water, five is for fried eggs, four is for crepes...)
(Deux) 2. Mix together the milk, salt and flour until smooth. Add eggs and oil. Mix well. (Batter will be thin-ish) [If using a not non-stick pan, this is the point where you spray it generously.)
(Trois) 3. Using a 1/3 measuring cup that's 3/4s full, pour batter into pan. Swirl to cover the bottom of the pan.
*Here is where the 'real' recipe and mine vary again. They say to use 2T of batter. Really? Have you tried that? The pan is hot, and you have to dip and swirl twice. Not to mention the crepes are the size for, like, Barbie. Use more batter than that. Trust me. I'm right.*
(Quatre) 4. When crepe is dry around the edges, flip it over. (Carefully loosen edges with a spatula first)
*Again, I differ with them. They say to cook only one side. Ew. Flip it.*


(Cinq) 5. Cook briefly. (Like 15 seconds) Remove to plate.
(Six) 6. Spread with one rounded teaspoon of Delicious Filling.
*I know that looks like a TON O' FILLING there, but that is not a dinner plate. It's a salad plate. I guess that's what you'd call it. It's small.*


(Sept) 7. Roll into 'cigar' shape, and top with berry sauce of your choice.

Delicious Filling
1 small (4 oz) container smooth cottage cheese (no lumps)
1/2 small (4 oz) container softened cream cheese
2 T powdered sugar
1 t vanilla
Mix all ingredients until creamy and smooth.

Raspberry Sauce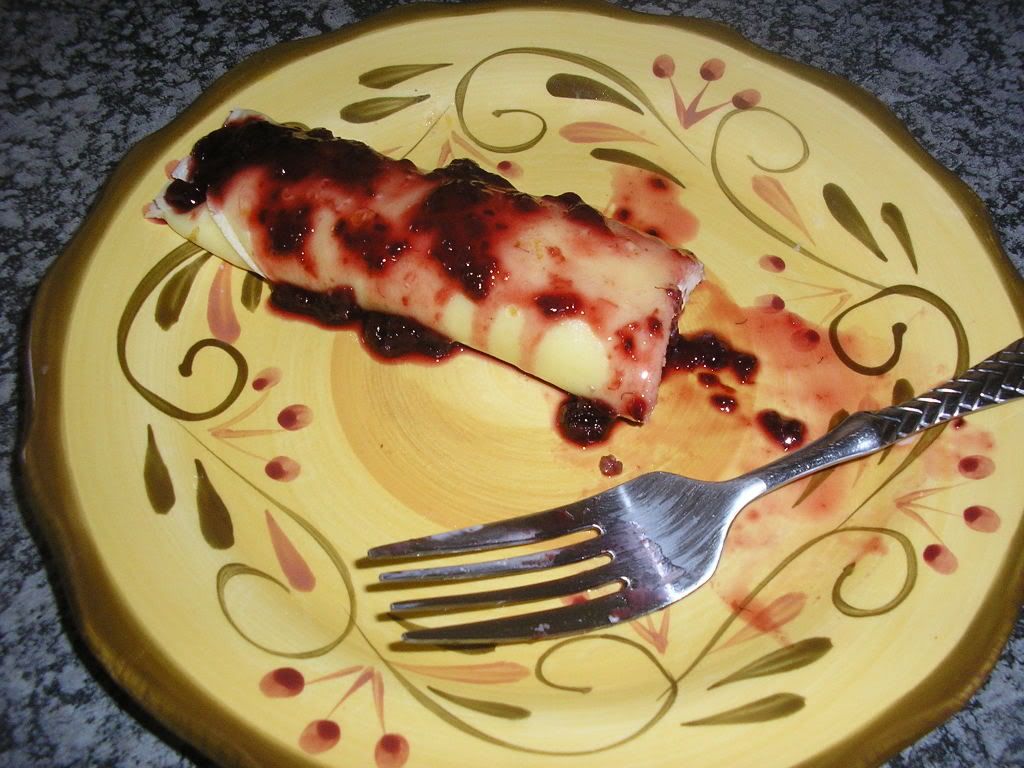 Blueberry Sauce

If you want to make these ahead, you can most certainly do so. Just make sure you have about 15 feet of wax paper. Layer the crepes between sheets of wax paper, then store in the fridge (in a Ziploc®). I try to use them up at least within two days. Otherwise they just get rubbery. When I'm done, I actually save the wax paper in a Ziploc® bag ready for the next time.
**Edited to add**: When reheating the made-ahead crepes, just pop them in the microwave for about twenty seconds. And, you can eat them room temp or even cold if you want. The choice is yours. Thanks to Victoria for asking!


Some other variations are to eliminate the Delicious Filling (why you would want to I will never know) and fill with thick apple cinnamon filling and serve with ice cream. Or bananas and caramel with pecans, or go the savory route and fill with meat and cheese, or chicken and spinach and feta, and top with a bechamel sauce. Really the possibilities are endless!

Bon Apetit!