This week we return to normal foodie Friday. Hope you're not too disappointed. But I warn you that Freaky Foodie Friday could rear its ugly head at any moment, so beware!

Today I am doing a new take on an old favorite. Remember a few weeks ago I gave you the recipe for Spinach Pie? And it is awesome, don't get me wrong. But I thought I could spruce it up a little, ya know? So I made a new recipe. And it is equally awesome. (In my opinion it's better!)

Today I bring you: JulieMom's Spinach and Chicken Triangles

It's really easy. I know phyllo dough seems hard to work with, and may not behave for you the first time, but don't let that stop you from making a huge mess trying your best!

The Recipe is as follows:
2 bags fresh spinach
1 Cup cottage cheese (creamed with a whisk)
2 eggs
2 chicken breasts
1 Onion, chopped
1 Cup Feta cheese, crumbled
1/2 C Grated Parmesan cheese
2 Tb olive oil (for cooking onion and spinach)
1 T dried dill
1 1/2t Sea salt
2 T garlic and herb mix (in the spices aisle)
3 T olive oil (mix into the um, mix)
1 Box phyllo dough, thawed according to package instructions.
Melted butter for phyllo. (Use it up as you go- I never measure this)

Instructions:
Preheat oven to 425 F. (210 C)
1. In small pot cover chicken breasts with water and boil until cooked through. (approx 15 minutes) Remove from water, let cool, then chop into small pieces.
2. Heat the first 2T olive oil in a large skillet. (Nonstick is best) Add chopped onion and spinach. Cook until spinach is fully wilted and hot. Stir in chicken pieces, dill, garlic flavor, and olive oil. Set aside. (Don't forget to turn off the burner.)
3. Place cottage cheese, eggs, salt, Parmesan and feta in a large bowl, and mix. Then add spinach mixture. Stir until well combined.


4. Melt a good chunk of butter in a microwave-safe dish. (Start with one cup)
5. Open your phyllo box, remove plastic wrap and unroll phyllo. Leave the inner paper underneath so you can fold it in half between batches. (See the plastic under mine in the photo?)



6. Very carefully separate two sheets of phyllo from the stack, and place them on your counter, one on top of the other. (Fold the remaining phyllo in half until you're ready for the next batch.)
7. Brush the top sheet with melted butter.



8. Cut the phyllo width-wise into four equal size strips.
9. Place a large tablespoonful of the spinach and chicken mixture in the bottom left-hand corner of one of the strips of phyllo. (you want the triangle to be nice and full when folded.)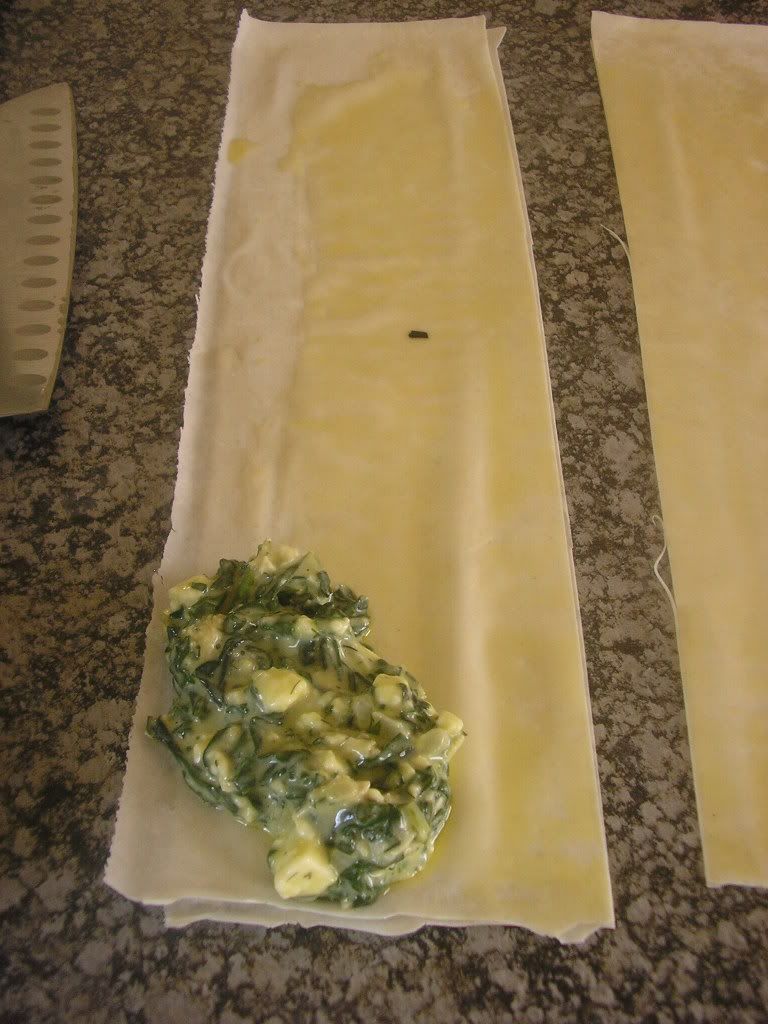 10. Beginning with the bottom left-hand corner, fold like a flag (or paper football if you're familiar with that) to the other end. (Check this out. Start following the instructions at step four and pretend the right side is actually the bottom edge facing you.)



11. Butter a large baking tray with your melted butter.
12. Place your triangles in the tray, seam side down.
13. Butter the tops.



14. Continue the process until all the stuffing is gone. (Melting butter as needed.)
15. Bake on the middle rack of the oven until golden brown on both sides. (Time will vary depending on color of your pan and your oven.) Check often and turn if necessary. Aren't they nice?



You can serve these alone, or with a Greek salad. They are sooo good. I promise. If you want to make them for a party, simply cut the phyllo into six strips instead of four, and use a smaller amount of filling for each triangle. They are always a hit!

Allez cuisine!!