In honor of all my friends and loved ones snowed in over the ocean, I have decided today's recipe will be a comfort food, winter-time-type favorite. And it's the first recipe that I made up that I have actually written down. It is:

JulieMom's Awesome Chicken Pot Pie (patent pending)

And I must tell you that this really isn't a "pie" per se, because there is no actual pie crust. See, I much prefer a biscuit-type topping for a hearty winter meal than a pie crust. Plus with biscuit topping there isn't that whole pesky rolling dough out on the counter part. (Which equals less clean up. And gets my vote any day.)

And I must also confess that I didn't follow my own directions. So you will see some encouragements in regards to the photos to cooperate and pretend 'to see' and 'not to see' things. You'll see.

Without further ado, I bring you
JulieMom's Awesome Chicken Pot Pie (patent pending)

You'll Need: (for the chicken base)
5 chicken breast halves
2 chicken bouillon cubes (Knorr chicken with olive oil and herbs totally rocks)
8 C water
2 med. carrots - chopped
2 med potatoes- cubed (skin on)
2 rib celery - chopped
1 med. onion - chopped
3 Cloves garlic- diced
2T Robertson's Garlic and Herb Mix (In the seasoning department here is SA)
1/2C frozen peas
1/2C frozen corn
3T Olive Oil
1/3 C flour
water from cooked chicken

Biscuit Topping:
2 cups Flour
2 teaspoons Baking powder
1/4 teaspoon Salt
2t dry parsley
3T margarine
1 cup Milk
2T liquid from cooking chicken

-Preheat oven to 425 degrees.
-Place chicken in med pot with 8 cups water. Add bouillon cubes, potatoes, and carrots. Boil until chicken is cooked and veggies are tender, 15-20 minutes. Remove chicken and veggies, reserve all liquid.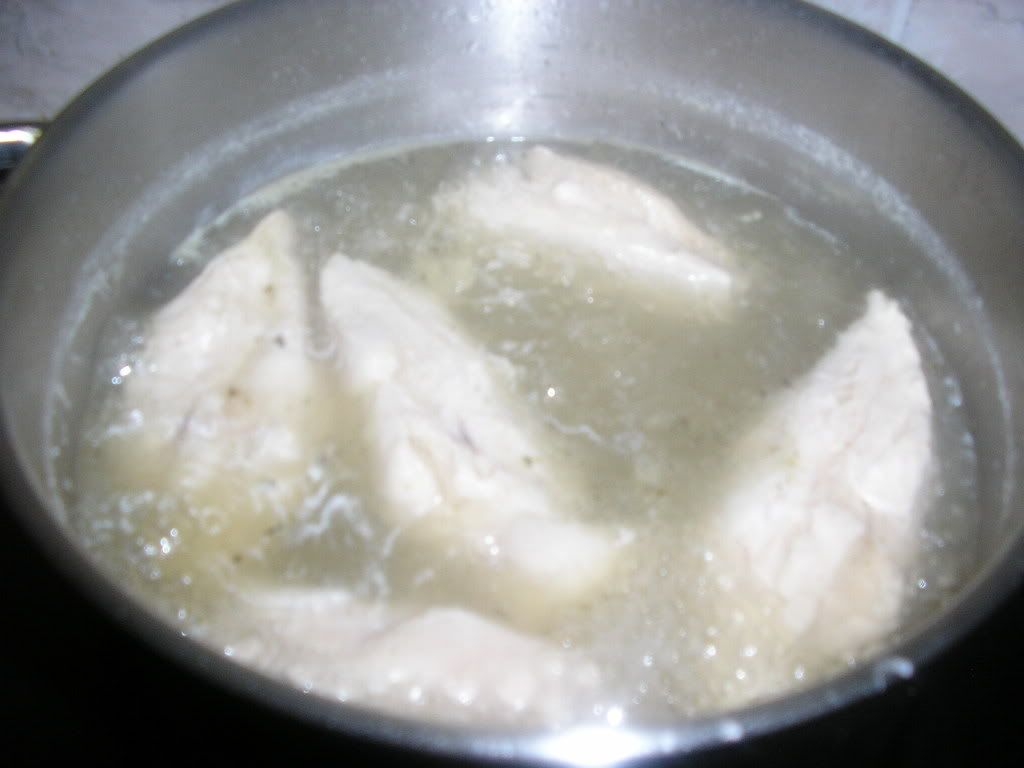 *I know you will cooperate and pretend the carrots and potatoes are there*

-Meanwhile, in a big honkin' saucepan over medium heat, cook onions, celery, and garlic in 3T oil until translucent.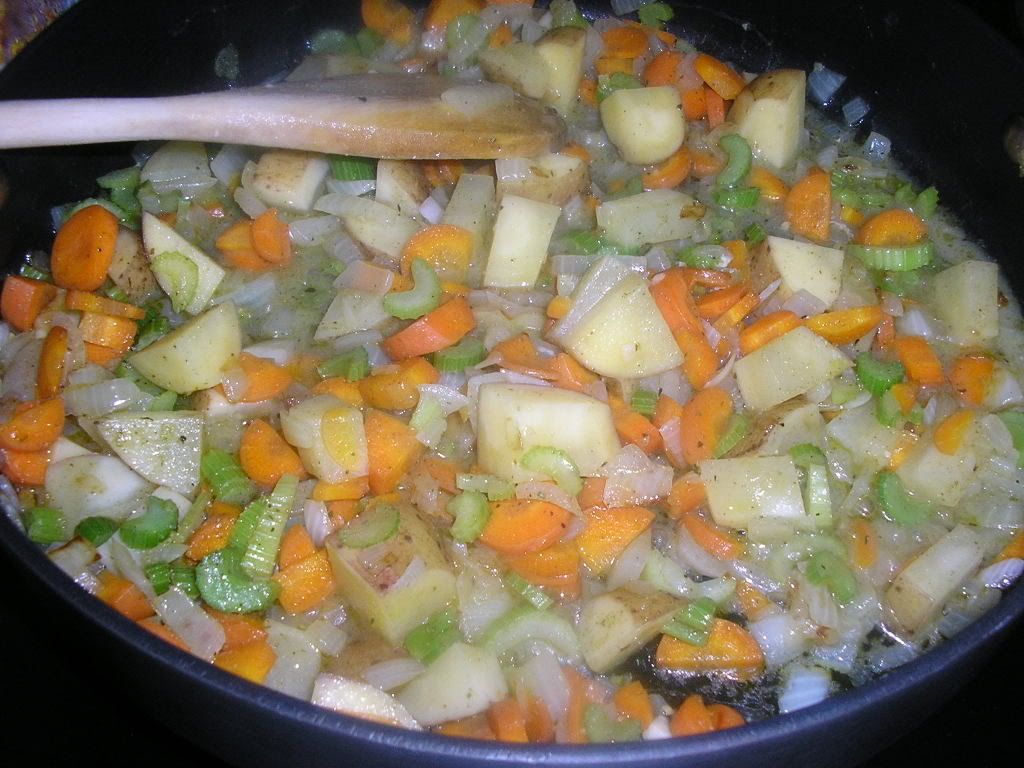 *Again you will cooperate and pretend the carrots and potatoes are NOT there*

-In separate bowl mix 1/3C flour with 5C broth from chicken. Mix well, then pour over vegetables in skillet. Cook and stir until thickened and bubbly. Add 1C more broth and stir.
-Chop cooked chicken into cubes and add to skillet along with carrots and potatoes. Mix well.
-Add peas and corn. Stir and cook until warmed through. If gravy seems too thick add another 1C broth. (You want it to be liquidy because the biscuits will absorb some)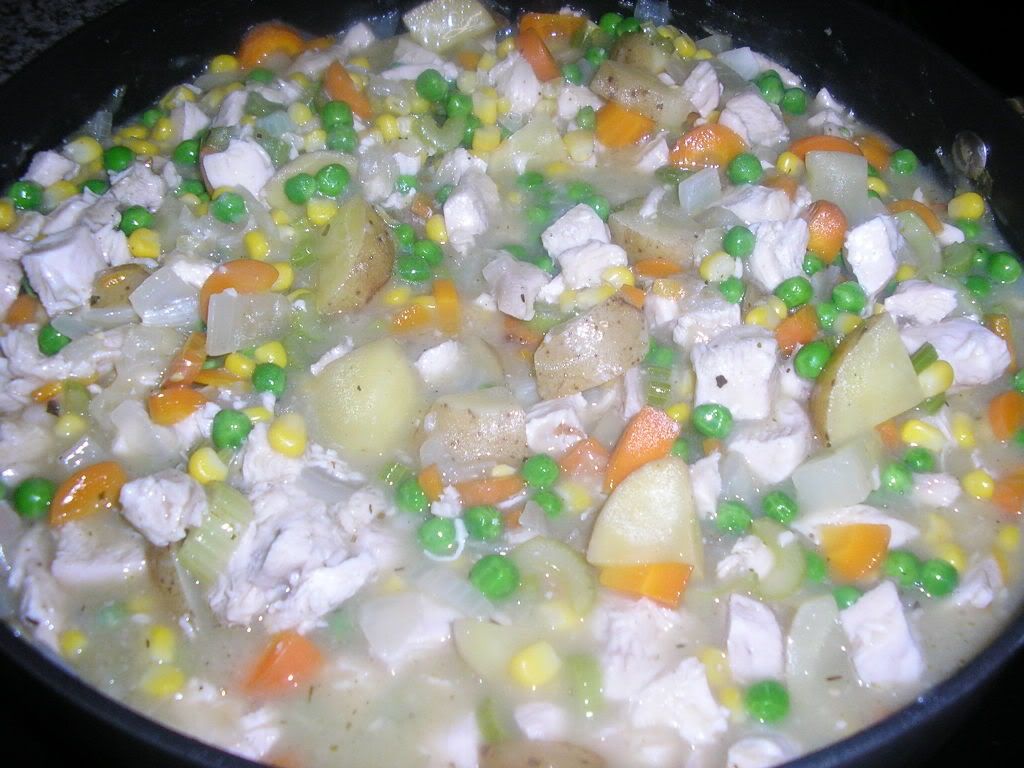 -Pour all contents of skillet into 9x13 baking pan. Set aside


-In same bowl you used before, mix 2C flour, 2 1/2t baking powder, 1/4t salt, 2t dry parsley and 2T broth. Cut in 3T margarine until resembles coarse crumbs.
-Mix in 1C milk. (will be like a runny drop biscuit batter)
-Spoon evenly over veggies and chicken in 9x13 pan.


-Bake at 425 degrees on center rack in oven for 20 minutes.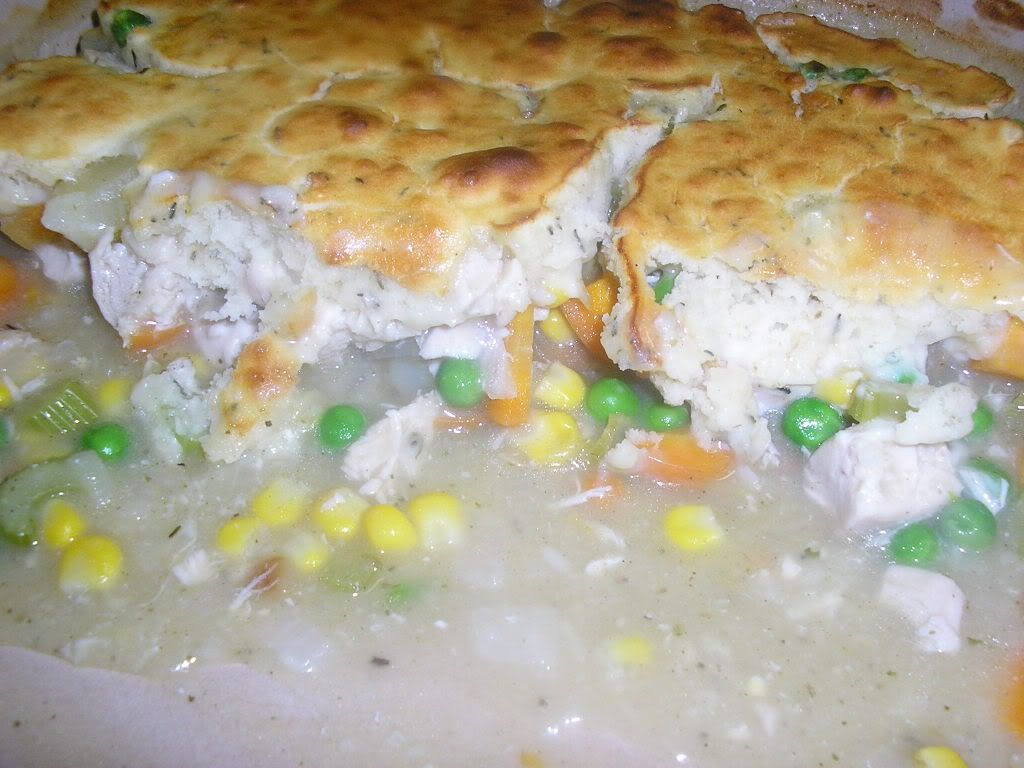 YUM. O.