The hunt for an excellent pizza dough is finally over!! If you've read this blog for any length of time whatsoever, then you know the Prince's affinity for NYC style pizza. I found a website about one man's journey for the perfect pie. I don't have that kind of time. Let me tell you, this is as close as I'm gonna get.

Today's recipe (obviously) is NYC Style Pizza.
1&1/2 C water (warm, not hot)
2&1/2 t white sugar
1&1/2t Salt
1T olive oil
4&1/2C Flour
1/2t active yeast
Toppings
(Preheat oven to 500 degrees F- If using pizza stone, put it in oven before heating, or it will crack in two.)

1. Dissolve sugar and salt in water. Add oil and flour and stir one minute. (Will not pull together like dough yet. Be patient)

2. Turn out onto lightly floured surface and press into a circle. Sprinkle with yeast. Knead 12 minutes. (When you first turn out the dough, it will be piece-y and floury and not at all like a dough. But work it for twelve minutes, and it makes the smoothest, softest dough I've ever worked with.)



3. Place in bowl, cover and let raise 1&1/2 hours. (Go play Barbies with your kids while you wait)

4. Divide into two portions. Take one portion, sprinkle with flour and, working from edges to center, press into 12" circle.



**Just a note here that I would move my dough to the baking surface before adding toppings of any kind, unless you have a wood fired oven and a pizza board, or you like licking the sauce off your counter top. It's up to you.**

5. Spread lightly with sauce (about 3/4C total both pizzas), putting less in the center. (Mine is half olive oil, which I sauteed with garlic first, and then added to half tomato puree. YUM!)



6. Add toppings and cheese (cubed melts best). Next time I will use more. Work quickly, because the longer it sits, the more liquid works into the dough. And yes, I bake right on the rack in the oven because the pizza stone I brought with me is to big for the dinky ovens they have here.



7. Bake at 500 degrees for 20-25 minutes. Let the crust get golden brown on top and bottom, or it will be mushy. Not good. Oh, and if your cheese starts to get a little dark too fast, just dab it with some tomato sauce.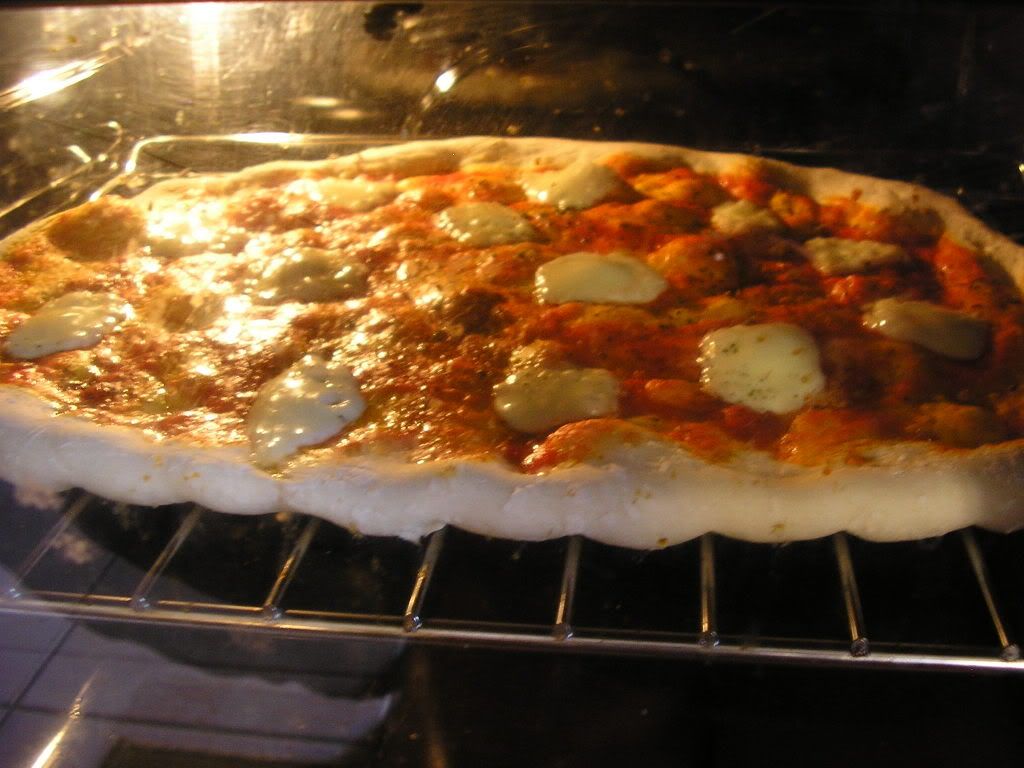 8. Cut into slices and enjoy!!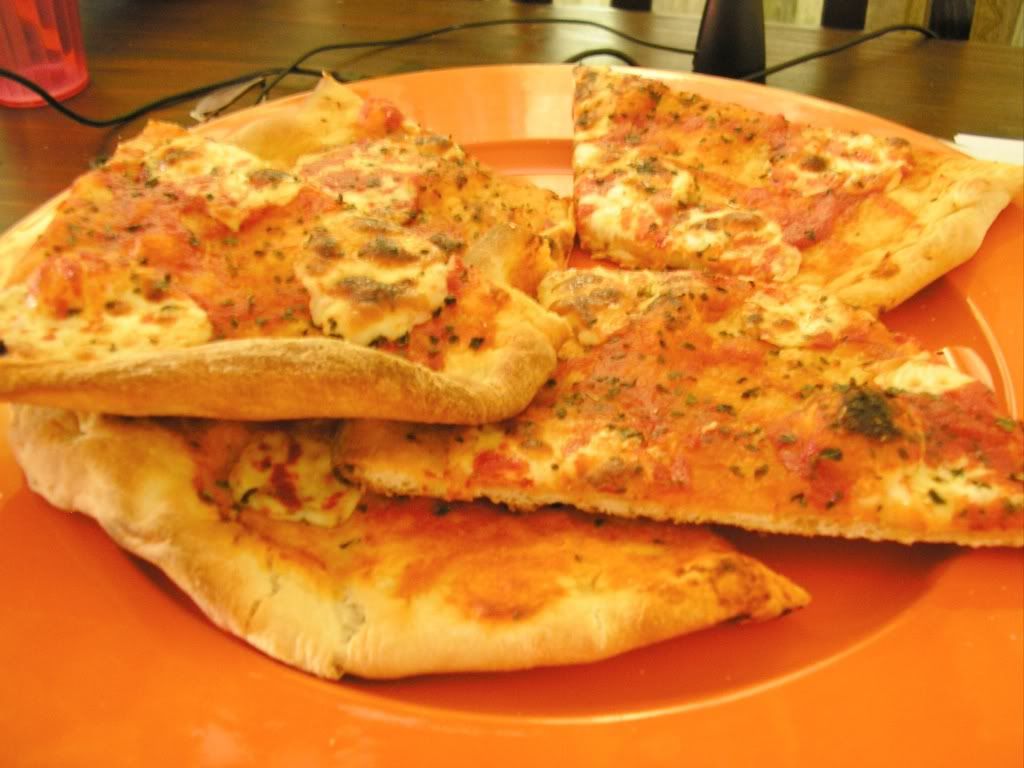 9. Be sure to use your manners and thank JulieMom for the best pizza recipe ever!!